Chiropractic Care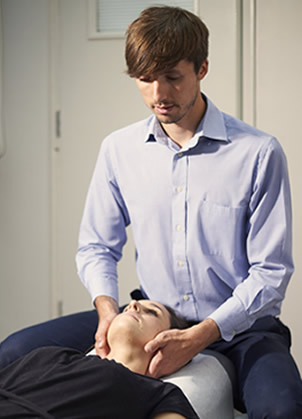 At
Chiropractic First
we use a number of highly-effective adjusting approaches to help improve spinal biomechanics and reduce nervous system interference. The approach we use is based on our clinical judgment and years of experience.
Chiropractic is a healthcare profession that focuses on diagnosis, treatment and prevention of mechanical disorders of the musculoskeletal system, with special emphasis on the spine. It emphasises manual therapy including spinal manipulation and other joint and soft-tissue manipulation, and includes exercises, and health and lifestyle counselling.
Chiropractors are regulated by statute and may therefore refer to conditions for which suitably qualified medical advice should be sought, provided they hold convincing evidence of the efficacy of their treatments.
What to Expect at Chiropractic First
We have built a successful practice over the past 16 years with a professional, patient-centred and friendly approach. Our chiropractors have an array of clinical knowledge, and an outright passion for healthcare. All the staff at Chiropractic First are dedicated to helping you achieve results in a safe and effective manner, with not only short term, but long term goals in mind.
To save you time, our First Visit paperwork is available online, to be completed at your convenience.
CHIROPRACTIC NEW PATIENT ONLINE FORMS »

Visiting Our Clinic
The first step is to book your initial consultation or examination at Chiropractic First. We would welcome you to click on the links below to further understand how we can help you.
First Visit. To find out if we can help you, we ask questions and listen.
Second Visit. We'll report what we found and answer all your questions.
Regular Visit. A typical visit will be much shorter, but just as important!
Primary adjusting techniques we use include:
Diversified – After identifying which vertebrae have lost their normal motion or position, a specific manual thrust is applied to free up "stuck" spinal joints.
Gonstead – This technique relies on very specific posterior-to-anterior adjusting movements performed in the prone and sitting positions.
Activator Methods® – This is a system of spinal evaluation combined with a handheld adjusting instrument that delivers a consistent, low-force thrust.
Our Team
Our Chiropractors are regulated by the General Chiropractic Council, and have professional indemnity insurance. Our Chiropractors keep up to date with advances in medical interventions and diagnosis, by completion of "continual professional training" throughout the year, and clinical audit.
The clinic has the latest equipment, a digital X-ray Agfa CR50 and Millennium EMG scanner. These are tools applied on a clinical basis, to help achieve a working diagnosis and effective Chiropractic Care.
Schedule an appointment today!
If you've been to a chiropractor before and prefer to be adjusted in a particular way, let us know. We want you to relax, enjoy and fully benefit from your chiropractic care.
BOOK CHIROPRACTIC APPOINTMENT »
---
Chiropractic Care Hove, Brighton SXE | 01273 324466