Massage Therapists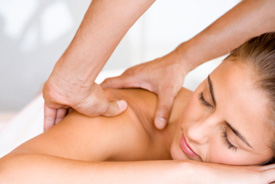 At Chiropractic First we understand the importance of treating you as a whole person and therefore encourage the use of massage therapy alongside our treatment.
Massage therapy and chiropractic are complementary to one another as chiropractic aids the restoration of normal joint mobility and function and massage therapy restores balance to the surrounding muscles. Many of our patients benefit from combining massage therapy with their chiropractic care. However, massage therapy is also effective when used alone. Another great benefit of massage therapy is the promotion of relaxation and an increased sense of well being.
MASSAGE THERAPY »

Meet Linda Thaper, Massage Therapist
Linda Thaper has practised massage in a wide variety of settings for over 15 years. She applies deep trigger point and stretching techniques to help longer standing problems, particularly useful in the shoulder and neck area. Linda uses reflexology, aromatherapy, deep tissue and Indian head massage techniques to complement chiropractic care and help speed recovery.
People of all ages and levels of physical fitness can gain great benefit from massage therapy. Those with certain health conditions may not be suitable for massage therapy and this will always be discussed during your initial consultation.
Chiropractic First has been providing quality chiropractic care and massage therapy to the East Sussex community of Brighton and Hove since 2006. Please contact Chiropractic First to make an appointment today.
Meet Lucie Armstrong, Massage Therapist
My journey started at the JING institute of Advanced Massage Training in Brighton. Subsequently I trained in Sports Massage at The School of Natural Therapies in London, and have continued my professional development over the years with a range of qualifications, exploring new ideas and investigating emerging techniques.
As a Clinical Massage Therapist I am not just interested in treating the surface level problem. Of course I am here to reduce pain or limitations in your movement, but I also believe that we as therapists can help to improve and maintain your optimal well being and function. Massage Therapy has the potential to not only offer physical change, but to also aid in emotional and deeply personal transitions.
I have travelled extensively across Europe and South East Asia, meeting new people and experiencing different cultures. Despite all my exploring, I chose Brighton as my home for its close proximity to the open water, the South Downs and Sussex Countryside.
---
Massage Therapists | 01273 324466