Dr Alison Lee, DC
(Doctor of Chiropractic)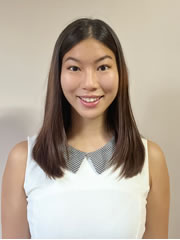 Through chiropractic care, I am committed to helping individuals live their best, perform their best, and play their best.
After being introduced to chiropractic, it has had a significant influence on my quality of life. From a young age, I suffered from headaches which were treated through chiropractic. As such, my inspiration to become a chiropractor comes from the instant relief and improvement I felt after the chiropractic treatment regimen and my desire to provide the same feeling to others. To this day, I still attend regular chiropractic treatments for general maintenance and wellbeing.
The human body has always intrigued me, and through the years I have come to learn and understand the way it moves, and why it moves that way. My interest lies in assisting patients on their own journey of discovering and understanding their own body's posture, patterns, and pain.
Outside the Clinic
Outside of chiropractic, I enjoy wakeboarding, doing yoga, and working out at the gym.
Welsh Institute Of Chiropractic – Masters of Chiropractic Distinction.
Member and insurance via the British Chiropractic Association.
Accreditation held by the General Chiropractic Council.
---
Dr Alison Lee (Doctor of Chiropractic) | 01273 324466